Turnkey M - Workstation for larger parts
The Turnkey M as the bigger ready-to-use machine is suited for larger parts up to half a meter in size. It is designed as a workstation that can be operated both standing and seated.
The laser and the control system are located in the lower section of the machine, so that the welding area with clamping unit, motion system and optics can be optimally accessed in the upper section. For setting the welding area is reached by the large side doors or the door in the back, which are all safety monitored. For welding only the large lifting door in front is opened. The electrical control cabinet in the lower section of the machine is accessible by two wing doors at the backside.
The touch-screen monitor on the front of the machine can be tilted depending on the size of the operator. On the USB ports additional optional peripherals like keyboard and mouse can be connected or a memory stick. To connect to a local area network an Ethernet connector is located on the backside of the Turnkey M.
The Turnkey M is available with drawer and a two-porisiton rotary indexing table. By customer-specific modification also the integration to a transfer system with work-piece carrier is possible.


Technical data
Welding area
axes 500 x 400 mm, scanner 350 x 350 mm
Laser power
40-200 W
Wavelength laser
about 980 nm
Laser class
1 (red pilot laser 2)
Clamping force
up to 7'000 N
Clamping stroke
20 mm - extendable on request
Drawer
manual, pneumatic, or electrical
Diameter rotary table
650 mm
Lifting door
650 x 400 mm - pneumatic or electrical
Cooling
air (IP20 with filter mat)
Ambient temperature
35/40 °C depending on laser power and duty cycle
Electrical supply
100-240 V, 50/60 Hz, <10 A
Compressed air supply
6-8 bar, free of oil
Dimensions
880 x 1'200 x 1'950 mm for drawer,
880 x 1'250 x 1'950 mm for rotary table,
with lamp tower 2'170 mm high
Weight
about 300 kg depending on configuration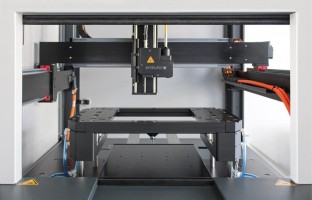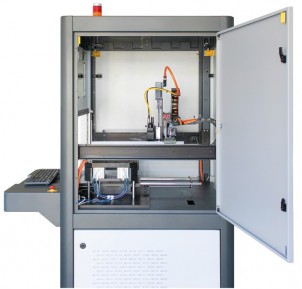 Clamping unit and axes system for large welding area inside Turnkey M.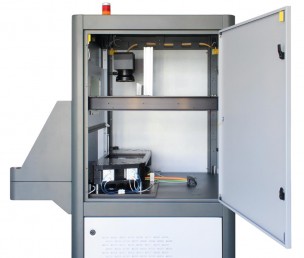 Scanner optics above rotary indexing table for quasi-simultaneous welding.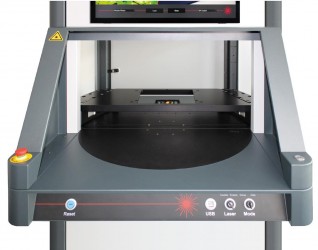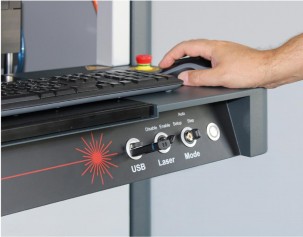 Operation controls of Turnkey M and USB ports for optional peripherals like keyboard and mouse or for data transfer by memory stick.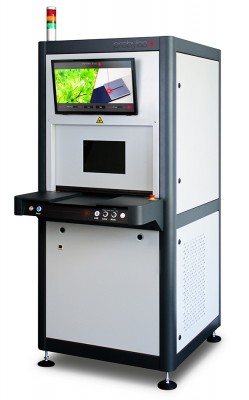 Turnkey M with drawer for parts.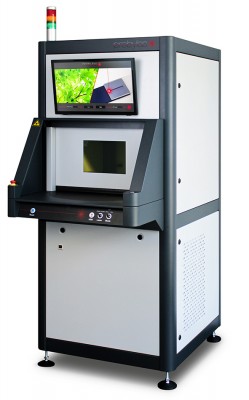 Turnkey M with rotary table for parts.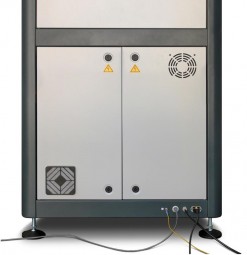 Electrical control cabinet and connections on backside of Turnkey M.